My journey through the halls of City planning.
On a sunny morning in March of 2017,  I stood waiting by the elevator of the atrium as smartly dressed people passed by.   Soon our no-nonsense engineer joined me as we headed up for a preliminary meeting with Calgary city planning.  Averil knows the ropes of City Hall and I was naively optimistic about our future plans for a new church. We chatted as we made our way to the open meeting area overlooking the City Hall atrium below.  Slowly, a team of five or six friendly looking planners with binders gathered around us.   Looking back, this meeting would initiate me into the conditional world of city planning.  
When it comes to rules and details, I have an unfortunate lack of ability to pay close attention.  Looking at the instructions is what I do after the first couple failed attempts at something.
The meeting progressed and I gradually picked up that these people took details seriously and according to their rules my church project was a non starter.   They explained their reasons, 10 in all, using technical jargon that I would over time become familiar with.  By the end I was feeling like I'd been through a wringer washer .  One planner waited behind to encourage us not to give up. "There is a Mosque in the area," he said, "they had similar issues and they did get approved."
The Islamic Center of South Calgary is an ambitious 10-acre project about 5 km from our property. Their planning process began in 2009 and like ours was challenging.  Reading their story was an eye opener for me but it also gave me some hope. 
Our journey to building a new church began with a desire to make a difference in our city and a 20/20 vision for the future.    Sometimes God allows a season of restlessness to give birth to needed change.   The opportunity for that change came when Hope Mission from Edmonton moved into our neighbourhood and were looking for a facility to launch.  Our warehouse church in the "hood" crossed all the t's for them and a deal was struck in the fall of 2015.  Excitedly, we began to look for land.
We eventually found our future home on Kijiji. Four acres on the east edge of the new ring road in an area called South Shepard. The land was part of a 12-acre parcel, formerly owned by the province but annexed by the city when Stoney Trail was built. To us it was the perfect gift from God for our future church home base.
The vision of Shepherd's Gate is formed from our grass roots as a community-based church.  The question that guided us was, "What would a church facility look like if we were to move into the neighbourhood like Jesus did?" The result is a 12,000 square foot centre with distinctive roof lines, open and bright meeting spaces, and a thoughtful interior flow.  This will be a functional, rent-able, community centre church.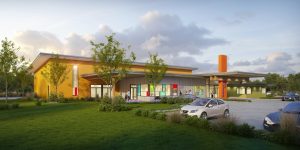 With city planning however, even a simple design can get complicated.  The amount of engineering required on our project would eventually rival some small housing developments.
Zoning Day
Almost a year to the day after our eye opening meeting with the planning team, I was at home with my west coast architect sister Sue and my wife Sandra. We were glued to the TV watching the city council live stream because,  this was our day to appeal to the elected body for permission to build.  The possibility that this could be the end of the road hung in the air adding to our agitation. There were 35 proposals before ours, but this morning the councilors were cutting them down like cord wood.  Keeping the live stream playing on my phone, we raced for city hall, you cannot be late!  The rest of the team arrived with minutes to spare before we were called.  It turned out the councilors reception to our presentation was very positive.  "It's looking good", Averil whispered.  Then the city councilors did something unusual, they wrote us a by-law that very day.  We went for quick lunch and started chatting about possible land uses. Our requests were all approved and the by-law passed almost unanimously that afternoon.
Walking out of city hall and down into the bustle of Olympic Plaza,  we soaked in the moment.  Gradually, we made our way up historic Steven Avenue surrounded by century old stone architecture. On this avenue 40 years ago I bought my first bible and there I also met a man who told me what it means.  Now with my wife Sandra, we've been serving this Church in Calgary for 20 of those years. Soon our new building will be added to the diverse architecture that beautifies the city.   What a great feeling it is to have approval, favor with God and man.  "Man I love this city,"  I was thinking.
Three months later those same councilors approved 14 new communities for the City of Calgary. The last one approved was Hotchkiss, a Hopewell community across the road from our new property! God is up to something. 
The next phase of our project would prove to be the most difficult so far. We were going back to the planning department for a development permit. 
Details, Details
Winter was slowly arriving as we gathered at the planning department for a detailed team review.  Council had written our zoning by-law but we still needed a development permit to build.   "We try to get DP's approved in 120 days,"  our planner had optimistically said adding, "but the complexity of the application plays a role."
Our team having read this first report on our application, cautioned me, "The best approach is not to be alarmed about anything and listen to what they propose to do to allow this through."
This first review was a 20 page list of 70 exhausting, prior to decision, conditions.  Some of the most expensive parts of the review were related to traffic flow.  The traffic studies alone would gobble up about a 1/4 of our engineering budget.  The requirement to upgrade a provincial intersection 5 kilometers away, one we will share with the mosque, is hefty fee to pay.
There were a number of soil and wetland related requirements.  For instance, "Surface ponding should be designed to contain all the flow generated from the 100-year storm events." it stated. Yes, 100 years!  We would be digging a run-off pond and planting enough tress of various sizes to absorb all rainwater.  Nevertheless, the planning department did make several concessions which will save us over a million dollars on the project.
Within a month of this meeting our budget for consultants had to be adjusted. More conditions means more complexity and more costs. 
Winter was late leaving in the spring of 2019.  One year after our exhilarating city hall victory we dragged ourselves back to the planning department floor.  Ironically, it was April Fools of 2019 when we received our second team review from the city.  It contained 18 pages and 60 prior to decision conditions. More revisions and calculations, more drawings and more paper, lots of paper.
A builder once told me the City of Calgary has a department for the design of garbage enclosures. I don't know about that, but I do know our garbage enclosure will be amazing!
Conditional Approval
On July 5, 2019, I was pulling my car into the Rona parking lot when my phone rang. It was Michael, our diligent and humble Calgary architect. I have some good news, he said, our Development Permit has been approved. A wave of relief swept over me as I realized we had made it through the worst of this struggle.  Still, the approval came with 47 prior to release conditions that would take another year to resolve. 
At times in this process, I felt like Moses going against Pharaoh and declaring "Let my people go that they might worship me!"  This day I quietly offered a prayer of thanksgiving to the Lord and called my wife Sandra with the good news.
Throughout those years our congregation experienced a wilderness wandering of our own. We had relocated to a rental spot in a senior's club in the community, our second rental space.   In spring of 2019, we were invited to merge with Avenue Church in Ogden. This has been like a homecoming. It is so good to be back in a building we can call our own.  The say faith untried is like a muscle without exercise, ours is getting a good work out now.
As I write this, it's a warm spring day in Calgary. People are shaking off the hibernation of the first ever pandemic shut in.  All conditions are now met and we are finalizing the paperwork on our DP.  Our team pushed through the rest like football players moving the ball up the field ten yards at a time. 
Living with conditions is like driving downtown on 9th avenue when all the lights keep turning red. Conditions like a whisper in your ear say, "You are never going to get it right." They feel like a power play, but in the end all power belongs to God. No amount of restrictions can stop what he approves, for all the promises of God in Christ are yes and amen.
I'm so grateful that God's love is unconditional!
In a world governed by endless by-laws it can be hard to understand grace that is free. Thankfully, our relationship with God is not conditioned on our own performance but on the one who died and rose again for us, Jesus. 
This grace once grasped, is what changes us from the inside out, as God gives us a new heart and desire to please him.
Chapter 2
A new chapter has recently opened in our dream. It's spring again and we are back in shutdown mode.  Our church family just voted 90% in favor of taking the next bold step of faith, beginning phase one of Shepherd's Gate Center. 2021 here we come. 
Commit your way to the LORD; trust in him, and he will act. Psa 37:5